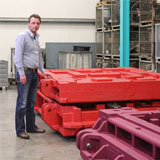 WORKNC delivers over 20 years of productivity for German toolmaker
CAD-CAM software selection
German toolmaker Riemann Gmbh has been using WORKNC automatic CAD-CAM since the 1980s. Founder, Klaus Riemann recalls, "At the time we had two or three CAD-CAM software demonstrations and WORKNC was the only software that impressed us. We could easily select a wide range of milling strategies and automatically generate reliable NC code, and it was extremely easy to use. Two days training and we could get started." Since the 1980's, the machinery used and WORKNC have naturally evolved. Riemann now uses the latest 64 bit parallel processing version of WORKNC to automatically and rapidly program its advanced 3, 4, and 5-axis machines.
"One reason why we have been working with WORKNC for over 20 years is the large number of efficient milling strategies included in the software"

Mark Hildebrandt, CAM manager, Riemann GmbH
Stamping and forming tools for automotive
Riemann specializes in stamping and forming tools for the automotive industry for components such as seats and exhaust manifolds, providing a service from tool design through to machining and testing. Where it does not have the facilities in house, it works with partner companies to deliver a complete service package.
Reducing cycle times
The company has made a considerable investment in milling capability and has settled on DMG / MORI SEIKI as its preferred machinery supplier. It has a 3-axis DMU 125T and several 5-axis machines including a DMC 75V, two DMU 200Ps and a 6 meter DMU 600P. Rene Luttmann, Project Manager says, "5-axis milling is standard practice nowadays. We generally cut as much as we can in 3-axis at each 5-axis inclined position. Continually rotating our heavy workpieces would greatly slow down machining. Firstly, we machine the base of the tool and then change the setup so that we can machine all the other geometry and contoured 3D surfaces in one operation, significantly reducing our cycle times."
Efficient milling strategies
The company's WORKNC programmer, Mark Hildebrandt starts with CAD files from CATIA V5 and uses his expertise to optimize the WORKNC cutting paths for speed and quality. "One reason why we have been working with WORKNC for over 20 years is the large number of efficient milling strategies included in the software. In particular, we find the rest material cycles extremely practical and efficient, as they avoid air cuts and shorten machining times." WORKNC makes it easy to fine-tune NC programs. He continues, "I can edit milling programs and cut and paste elements, such as a proven milling strategy, into a new program."
WORKNC feature recognition
Recently, Riemann has added WORKNC's automatic feature recognition for hole drilling. Rene Luttmann says, "Stamping tools have a considerable number of holes and we can automatically cut these in WORKNC. First, the software finds the hole features and coordinates from the CAD data. Next, it generates tailored machining strategies which use the tools that are actually available. This minimizes the number of cutters we need to stock and eliminates the possibility of an error, delivering valuable cost and time savings."
5-axis machining of very large components
The DMU 600P has greatly expanded the capacity at Riemann, which now offers subcontract machining services as well as tool making. It can now handle workpieces up to 40 tons using simultaneous 5-axis machining strategies. Klaus Riemann says, "We purchased the machine to meet our tool making needs, but its 6 meter travel also enables us to machine any huge component with 3D contours from several sides without reclamping. With these techniques and WORKNC's 5-axis strategies we can easily save two hours of setup time. The demand for very large parts is increasing and previously we delivered it using external service providers, which was both expensive and complicated. The in-house capacity we now have is not very common so we are delighted that we can offer our customers these new capabilities."
High speed viewing of CAD files
As well as WORKNC, Riemann also uses WorkXPlore, the high speed 3D viewer. This system enables many more people within the company to simultaneously access and interrogate the design data. It can quickly handle and manipulate very large CAD files from leading design systems and is used by the company for purchasing, quotations, sharing data on the shop floor and, in parallel with the CAD system, for tool design.
About the Company
Name: Riemann Gmbh
Web: www.riemann-werkzeugbau.de
Benefits Achieved
Reduced Cycle Times
Able to copy & paste proven milling strategies
Reduced number of cutters that need to be kept in stock
Comments
One reason why we have been working with WORKNC for over 20 years is the large number of efficient milling strategies included in the software.
Mark Hildebrandt, Riemann GmbH