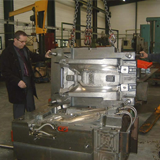 SIFOM gets maximum productivity from its CNC machines with WORKNC automatic CAD-CAM
Located between Angers and Saumur in France, SIFOM has been a specialist manufacturer of molds and tooling equipment since 2002. Its core business: manufacturing tooling equipment and complete molds, some of which are very large components weighing up to 25 tons (for external automobile panels). The company has a staff of 12, including 5 milling machine operators/fitters and two drillers/fitters, and it generated around 1.2 million Euros in sales in 2012. The company is at the forefront of technology with its pool of CNC machines, which includes machining centers from MAZAK, ZAYER, HAAS, VERNIER and HURCO, with the imminent arrival of a FIDIA 5-axis machine.
"What I want is to produce highly complex components, not your typical 'run of the mill' molds or tooling equipment. You could even say that this is at the heart of my growth strategy and a key differentiator for us. It's through this specialized work that we can demonstrate the full extent of our skill and our control of production resources. WORKNC has been key in enabling us to meet this challenge"

Brice Vincent, Managing Director, SIFOM
NC Machining... A profession and a passion at the same time!
Managing Director, Brice Vincent explains, "SIFOM started out working for the automotive industry. In 2007, we began to work for the construction and civil engineering industry, which was an innovative move at the time. For instance, we've manufactured molds for swimming pools and even a mold for an artificial water table. That was a great experience. Over the past 2 or 3 years, we have turned our attention to the aeronautical industry. In order to meet the requirements of this industry, we diversified our production by manufacturing stamping dies, assembly tools along with plastic and aluminum injection molds. We are also in the process of obtaining ISO certification". So today, these are SIFOM's three main markets, along with a few customers for precision tooling from the gold-smithing trade.
WORKNC in use since 2002
"We knew the market so we were aware of the WORKNC CAD-CAM solution" said Brice Vincent. "The first license was purchased in 2002 when SIFOM set up shop. Today, there are two WORKNC seats for programming jobs, and soon, there'll be a third one for simultaneous 5-axis programming" he adds. According to Brice, "Over the past 10 years, WORKNC software development has always kept pace with and anticipated our needs, and none more so than Version 21. Today, it's extraordinary". In addition to the continual development of the WORKNC CAD-CAM software in general, R&D has always taken SIFOM's specific application related requests onboard. "We've enjoyed unflagging technical support over these past ten years" says Brice.
Safe, reliable machining programs
SIFOM's programmers prepare their toolpaths in WORKNC and run them directly on the CNC machine. "We don't need to simulate our machining sequences, we've never had a breakage and that's going back to 2002 " enthuses Brice. The workshop runs machining programs during the day for the most complex or shortest jobs. The rest, i.e. the bulk of finishing and semi-finishing toolpaths, are done overnight. "They've got to be right first time. In 2011, right in the middle of an industrial boom, the company was able to operate 22 hours out of 24. A great way of maximizing production resources. Absolutely no breakages due to CAM and WORKNC, only occasional errors in the choice of tools, that's all we had " says Brice. However, to achieve such impressive results, SIFOM's programmers always use the collision detection functions within WORKNC.
Complexity, the hallmark of SIFOM
As Brice Vincent stated earlier, he loves a challenge and loves manufacturing complex molds and tooling equipment. The company was recently entrusted with the production of a delicate inclined part made from a composite material with groove features, contour milling, holes,... in short, requiring 60 hours of high added value machining. This part would usually have undergone 5-axis machining, but unfortunately SIFOM had not taken delivery of their new 5-axis CNC machining center at the time. According to Brice, "We weren't going to let the opportunity of getting a new customer and demonstrating our know-how slip through our fingers. This was a twofold challenge for us: to successfully produce and deliver the part within the deadline and to demonstrate WORKNC's capabilities to a customer who used a different CAM system. So we took on and met the challenge and our customer was very pleasantly surprised. That experience reassured us that we were doing the right thing investing in the FIDIA simultaneous 5-axis machining center which will be a further asset in our strategy of diversification " says Brice. 5-axis technology, in tandem with WORKNC CAD-CAM, is definitely the future for SIFOM. "It's important that you don't change a winning formula that works, especially one that works really well " says Brice.
When asked about the benefits of using WORKNC, Brice replies, "It's so easy to use, it ensures our CNC machines operate in complete security and it's an essential part of our diversification program, therefore for the future of the company ". However, he believes the biggest benefit may be the fact that his programmers have become so familiar with WORKNC that they use the software to its full capability, very occasionally calling for assistance from the WORKNC technical support team. Brice never hears any complaints... but he has noticed the upward trend in the company's turnover. A result which illustrates the worth of industrial software, as a help and not a hindrance to users in their day-to-day work, and a potential asset for protecting and improving a company's market position.
About the Company
Name: Sifom
Web: www.sifom.fr
Benefits Achieved
Needs are always met by the software
Able to machine highly complex parts
Company never have to call tech support
Comments
"What I want is to produce highly complex components, not your typical 'run of the mill' molds or tooling equipment. You could even say that this is at the heart of my growth strategy and a key differentiator for us. It's through this specialized work that we can demonstrate the full extent of our skill and our control of production resources. WORKNC has been key in enabling us to meet this challenge"
Brice Vincent, Managing Director, SIFOM