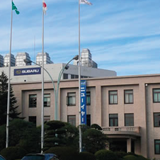 WORKNC's automated and efficient toolpaths boost productivity for Fuji Heavy Industries
By implementing the automated toolpath creation functions in WORKNC CADCAM, Fuji Heavy Industries has been able to reduce both programming and machining times and has greatly simplified its 3 and 5-axis CNC programming.
"The savings in administration, programming and machining times have produced many benefits and cost savings"

Yoshimi Chiba, Manager of the Machine and Tool Control Section
Fuji Heavy Industries is one of Japan's leading industrial manufacturers and during 2011 celebrated the manufacture of the 300 millionth EX Series Subaru car engine. Other innovative products include symmetrical AWD systems, driver assist safety technology and Boeing 787 center wing boxes. Its five year management plan is highly customer focused with the aim of realizing growth through global expansion while maintaining positive social contributions to local communities.
Halving roughing programming times
WORKNC was first introduced into Fuji Heavy Industries in 2001 after extensive evaluation showed that it reduced programming times for roughing toolpaths by half and significantly reduced overall machining times through the quality of its rough milling and 3D contour machining paths. Yoshimi Chiba, Manager of the Machine and Tool Control Section at the Subaru Manufacturing Division's Gunma Plant, says, "We expanded the system into the design and manufacture of injection molds in 2003, die cast molds in 2004 and we introduced WORKNC's Auto 5 simultaneous 5-axis machining module in 2008. Year on year we have been developing automated processes in WORKNC in a project which is ongoing and continues to provide one improvement after another." He continues, "Right after installation WORKNC halved roughing program preparation times and automatically produced our documentation which has saved us a significant amount of effort. The savings in administration, programming and machining times have produced many benefits and cost savings."
Automatic 5-axis machining
Fuji Heavy Industries decided it needed to implement 5-axis machining to cope with the deep and complex cavities found in die cast molds. Yoshimi Chiba says, "We decided to implement WORKNC Auto 5 as we were familiar with its ease of use and its capabilities in the manufacture of our stamping tools and injection molds. Additionally, we were attracted by its ability to automatically convert 3-axis toolpaths into simultaneous 5-axis toolpaths."
Assistant Manager Ichiro Kono elaborates, "WORKNC Auto 5 has enabled us to cut more of the part on the machining center, reducing our reliance on EDM and producing an overall time saving. 5-axis machining is complex so the ability to automatically convert 3-axis into 5- axis toolpaths is a major benefit. When you consider the immense difficulties of accurately setting all the angles for 3+2-axis machining, WORKNC Auto 5 has made our life much easier, resulting in reduced programming times. Additionally, it has enabled us to increase the volume of work completed in-house on the molds for the next generation Subaru boxer engine."
WORKNC preferred
Fuji Heavy Industries benefits from the ease of use and short learning curve of WORKNC. Assistant Manager, Atsushi Takahashi says, "I have personally experienced how easy and trouble free CNC program preparation is with WORKNC when producing our stamping tools and injection molds. We use other CAM systems in our factory, but our employees tell me that WORKNC is the best and that it can be learnt in less than half a day."
Moving towards fully automated programming
Assistant Manager Mr Hitoshi Sakai is impressed with the automated programming possible in WORKNC. "We used the customization capabilities of WORKNC to automatically create Workzones for new parts so that even personnel unfamiliar with the software can prepare a CNC program. Furthermore, we have built an almost completely automatic system that allows CNC programs for parts such as small part flange lifters and scrap cutters to be produced with one or two mouse clicks. Thanks to WORKNC's flexibility, the principles can be applied to other component groups and advances are constantly being made towards full automation."
For the future, Atsushi Takahashi believes that increased automation is the way forward. "WORKNC is proving itself to be an effective tool for developing automated systems. I expect to see even greater levels of automation in the future, with automatic program creation on the shop floor, automated geometry recognition, and viewing and analysis of NC data with the WorkXPlore 3D viewer." Ichiro Kono adds, "The next step for WORKNC Auto 5 will be standardizing 5-axis machining to bring even more automation to this complex area of CNC programming."
About the Company
Name: Fuji Heavy Industries
Web: www.fhi.co.jp
Benefits Achieved
Reduced programming times
Halved roughing program preparation times
People unfamiliar with WORKNC can prepare a CNC program.
Comments
"The savings in administration, programming and machining times have produced many benefits and cost savings"
Yoshimi Chiba, Manager of the Machine and Tool Control Section