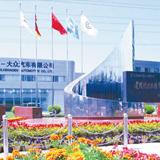 WORKNC brings fast and reliable 5-axis machining to Shanghai Volkswagen Automotive
Exhaustive CAD/CAM trials
Shanghai Volkswagen Automotive (SVW) selected WORKNC CAD/CAM software for mold and prototype production after exhaustive trials which lasted nearly 12 months and demonstrated the unparalleled reliability of its toolpaths. Volkswagen was a pioneer in the Chinese automotive industry, starting its collaborative activities 30 years ago. Now China is its biggest sales market and in 2011 it sold 2.26 million vehicles there.
WORKNC selected on several criteria
SVW chose WORKNC for its ease of use, flexibility, speed, reliability and 5- axis programming. The company uses the software on its Zimmermann, Okada and Heidenhain machines and controls. Within the software, the users have created a simulation of each of the machines, which makes it possible to anticipate and avoid out of travel conditions and prevent collisions with the tool, the holder, the workpiece and the machine tool itself.
Workforce efficiency
The company has found that it can train its engineers to become competent in the use of WORKNC within 1-3 days. This increases the number of people proficient in its use, maximizing the efficiency of the workforce and ensuring that the software is used to its fullest extent, without using up excessive amounts of productive time on training.
Collision avoidance
The variety of work SVW produces through WORKNC is huge, so the ability to check and verify the CNC code is extremely important, especially as batch quantities are very low for prototype production. Collision detection and avoidance geared to the individual machine tool ensures that this checking stage is error free. To help finalize the cutterpath, WORKNC creates both the collided and uncollided toolpath, as well as information about the most appropriate tool length required to finish the job.
Automatic and reliable
The software has more than 60 toolpaths available which automatically generate safe cutting strategies. The ergonomic and graphical interface ensures that each toolpath has a common and intuitive way of working, automating the process and minimizing the possibility of error, even for inexperienced users. This results in a standard and predictable approach to machining methods. To further automate the process, particular sets of cutting strategies can be stored as one command, capturing the experience of the most skilled machinists. By using this captured information, SVW can ensure that toolpaths are both reliable and accurate.
Fast calculation times
WORKNC incorporates parallel processing, multi-threaded algorithms which speed up calculation and processing times by a factor of 10. SVW carried out trials on its Zimmermann machine using WORKNC Global Roughing and Re- Roughing; Planar Finishing; 3D Drive Curve machining; and 5-axis Normal to the Surface machining strategies, with cutters ranging from 30mm diameter down to 1mm diameter. The total calculation time for WORKNC was 22 minutes compared with 8.5 hours for another CAM software system.
High accuracy 5-axis algorithms
To achieve accuracy on the finished part, SVW makes use of WORKNC's 5-axis machining capabilities. Previously the company would use 3 and 3+2 axis techniques for its final picking-out toolpaths. The disadvantage with this method of manufacture is the errors that build up when repositioning the component and from vibration within the machine structure. This can lead to a mismatch in the toolpath where it has to be stopped and restarted again after repositioning a rotary axis. WORKNC includes new high accuracy algorithms for processing the part model enabling the toolpath to be completed in one smooth 5-axis movement, eliminating the possibility of discontinuities in the finished part. WORKNC Auto 5 makes programming 5-axis toolpaths even easier. With this software, SVW can simply create a 3-axis toolpath for the job and then use WORKNC Auto 5 to automatically transform it into a full 5-axis cutter path. As part of the system, WORKNC considers the kinematics of the individual machine tool, inserting flip and rotate movements when the axis limits have been reached, avoiding any potential collisions and taking into account the fastest axes on the machine to minimize cycle times.
WORKNC in the Chinese automotive industry
As well as SVW, WORKNC is already used by leading automotive OEMs worldwide and, in China, is used by major companies such as Shandong Weifang Foton Mould Co. Ltd, China's largest manufacturer of molds for automotive body parts; Shanghai Superior Die Technology Co. Ltd (SSDT), part of SAIC; and the Yutong Bus Company, one of China's 500 top enterprises which has the capacity to manufacture 180 buses per day. All of these companies have benefitted from the accuracy and reliability of WORKNC which has enabled them to produce molds and dies with the minimum of effort and in a much shorter space of time.
The growth in the Chinese automotive market has recently been emphasized by a contract signed between the Volkswagen Group and its Chinese partner SAIC to build a new plant in Urumqi, Western China. The successful implementation of WORKNC at SVW will generate significant new opportunities for WORKNC which has shown it can offer ground breaking CAM technology to Chinese engineers.