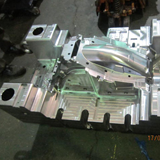 WORKNC eases the move to 5-axis machining at Indian toolmaker
A leading toolmaker in India
Sridevi Tool Engineers is one of the leading mold making companies in India, and WORKNC has helped it in the introduction of 5-axis machining, according to Abhay Churi, Assistant Manager CAM and CNC at Sridevi. The company was formed in 1972 and can handle molds up to 40 tons and specializes in the automotive, white goods and engineering markets. Located in Thane, India, it has 12 CNC machines, including two 5-axis, and six EDM machines and currently produces about 180 molds each year.
"We much prefer using WORKNC for 5-axis programming as it is quite easy."

Abhay Churi, Assistant Manager CAM & CNC
Effective global roughing strategies
Sridevi first installed WORKNC in 2004 and it is satisfied with the features and support of the system. It now has 4 licenses including two 5-axis for its machining applications. Abhay Churi says, WORKNC's Global Roughing strategies are very effective with lots of options. The holder collision check lets us identify what we can safely machine, and the rest roughing identifies where material is remaining enabling us to rapidly remove the large amounts of metal common in the bumper and door molds we produce. For roughing we usually start with an 80mm r8 radius or 66mm r8 and then work down to a 1mm ball.
Smooth, powerful finishing
For finishing, the company has some advanced machinery including a DMG DMC 105VL linear & 75 VL which has 5-axis capability and spindle speeds of up to 28,000 rpm. Abhay Churi says, WORKNC has some powerful finishing strategies. We normally cut the P20 material at between 10 and 20,000 rpm, running 24 hours per day 6 days per week. WORKNC knows where there is excess material and its smooth strategies, which are very effective at the high feedrates we use, eliminate the danger of excessive tool loading and hence damage to the cutter.
Auto 5 is fast and easy
Mold design is mainly completed in Unigraphics and model data is reliably transferred into WORKNC using IGES/XT. Some of the cavities are very large, so the speed of the software is important to the company. To produce 5-axis cutterpaths, the company uses WORKNC's Auto 5 module. This makes it very simple to generate continuous and safe 5-axis paths. Abhay Churi says, We much prefer using WORKNC for 5-axis programming as it is quite easy. In WORKNC Auto 5, the programmer simply creates a 3 or 3+2 axis toolpath and the software automatically changes it into 5-axis, bringing 5-axis machining well within the capabilities of nearly every company.
Reduction in EDM operations
By implementing 5-axis machining, Sridevi has been able to dramatically reduce the number of electrodes it needs to manufacture. Mr. Arvind Gadad, Assistant Manager CAM & CNC, explains, Reducing EDM was our main driver for introducing 5-axis machining as this saves us a lot of time, increasing the number of molds we can make each year.
Shop floor programming
The ease of use of WORKNC allows the company to train its CAM programmers in-house. It is starting to train its machine operators as well, to increase their flexibility and skill levels, and they are already producing their own programs on the shop floor for the more simple parts. Mr. Arvind Gadad says, The support we get from the WORKNC team is very good, and it resolves any queries we have quickly.
About the Company
Name: Sridevi Tools
Web: www.sridevitools.com
Benefits Achieved
Eliminate the danger of excessive tool loading
Reduce the number of electrodes they need to manufacture.
Able to carry out in house training
Comments
"We much prefer using WORKNC for 5-axis programming as it is quite easy."
Abhay Churi, Assistant Manager CAM & CNC